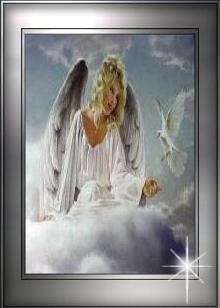 Welcome to My Father's House. A few of you know me already through my other websites, ANGEL LADY'S FAMILY HOME PAGE and YESHUA HA MASHIACH. MARANATHA (My very first site) was built with a lot of help way back when I didn't know a thing about HTML and almost as little about the computer. When I started all I did was write the text. Before long I ventured into learning the HTML language and Yeshua Messiah was built and now My Father's House. As you can tell it's been a busy 3 years and I've come a long way. It could not have been done without the help of the Lord and all my internet friends and family who helped and supported me along the way. I still have a lot to learn and the more I learn the more interesting it has become.
For those of you who don't know me - and your number is many, let me take a few minutes to tell you about myself. I am a Christian, a wife, a mother of 3 sons, 1 daughter, and 11 grandchildren.
I USED to have a lot of hobbies, such as sewing, needlework, and crafting of all sorts. Um, somehow that's kinda been put on the back burner since I got my computer 3 years ago and I got into this techie stuff. Gosh, I got to get a life.




El Shaddai
This site best heard with . . . Crescendo PLUS from LiveUpdate!