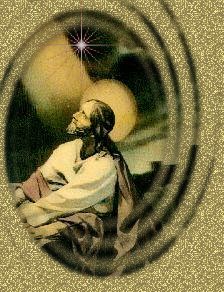 The
GREATEST
MOMENTS
IN THE LIFE OF
Christ
by
MAX LUCADO

Simple moments. Quiet moments.

Moments missed by many, but created by God,
forever punctuating the timeline of history.

You can't open the Gospels without reading about them.

They are the greatest moments:

Mary watches her baby boy in a feed trough and ponders,
"How can this really be God?"

The apostles stare at a lunchbucket of loaves
and fish that never goes empty.

A leper sees new fingers appear where only nubs had been
and runs back to thank his God.

God does what he would be doing only in your wildest dreams -
wearing diapers, riding donkeys, washing feet, dozing in storms,
and dying for your sins.

These are The Greatest Moments, when God put on humanity,
not only to save us from our sins but to experience life as we do,
with all its laughter and tears.

JESUS' BIRTH ANNOUNCED
During Elizabeth's sixth month of pregnancy, God sent the angel Gabriel to Nazareth, a town in Galilee, to a virgin. She was engaged to marry a man named Joseph from the family of David. Her name was Mary. The angel came to her and said, "Greetings! The Lord has blessed you and is with you."

But Mary was startled by what the angel said and wondered what this greeting might mean.

The angel said to her, "Don't be afraid, Mary; God has shown you his grace. Listen! You will become pregnant and give birth to a son, and you shall name him Jesus. He will be great and will be called the Son of the Most High. The Lord will give him the throne of David, his ancestor. He will rule over the people of Jacob forever, and his kingdom will never end."

Mary said to the angel, "How will this happen since I am a virgin?"

The angel said to Mary, "The Holy Spirit will come upon you, and the power of the Most High will cover you. For this reason the baby will be holy and will be called the Son of God."

Luke 1:26-35

Gabriel was never one to question, but this time he had to wonder. God will become a baby? That's okay for humans, he thought to himself. But God? The heavens can't contain him; how can a body?

But Gabriel had his orders. Take the message to Mary. Must be a special girl, he assumed as he traveled. But Gabriel was in for another shock. The mother-to-be of God was not regal. She was a Jewish peasant who'd barely outgrown her acne and had a crush on a guy named Joe. It was all Gabriel could do to keep from turning back. "This is a peculiar idea you have, God," he must have muttered to himself.

Are God's guardians given to such musings? Are we? Only heaven knows how long Gabriel fluttered unseen above Mary before he took a breath and broke the news. But he did. He told her the name. He told her the plan. He told her not to be afraid. And when he announced, "With God nothing is impossible!" he said it as much for himself as for her.



JESUS' BIRTH
The Word became a human and lived among us. We saw his glory - that belongs to the only Son of the Father - and he was full of grace and truth.

Because he was full of grace and truth, from him we all received one gift after another. The law was given to Moses, but grace and truth came through Jesus Christ. No one has ever seen God. But God the only Son is very close to the Father, and he has shown us what God is like.

John 1:14-18

It all happened in a moment, a most remarkable moment that was like none other. God became a man. While the creatures of the earth walked unaware, Divinity arrived.

God was given eyebrows, elbows, two kidneys, and a spleen. He stretched against the walls and floated in the amniotic fluids of his mother.

God had come near. No silk. No ivory. No hype. To think of Jesus in such a light is - well, it seems almost irreverent, doesn't it. It is much easier to keep the humanity out of the incarnation.

But don't do it. Let him be as human as he intended to be. Let him into the mire and muck of our world. For only if we let him in can he pull us out.

JESUS' BAPTISM AND
THE WITNESS OF JOHN
Some Pharisees who had been sent asked John: "If you are not the Christ or Elijah or the prophet, why do you baptize people?"

John answered, "I baptize with water, but there is one here with you that you don't know about. He is the One who comes after me. I am not good enough to untie the strings of his sandals."

This all happened at Bethany on the other side of the Jordan River, where John was baptizing people.

The next day John saw Jesus coming toward him. John said, "Look, the Lamb of God, who takes away the sins of the world! This is the One I was talking about when I said, 'A man will come after me, but he is greater than I am, because he is living before me.' Even I did not know who he was, although I came baptizing with water so that the people of Israel would know who he is."

Then John said, " I saw the Spirit come down from heaven in the form of a dove and rest on him. Until now I did not know who the Christ was. But the God who sent me to baptize with water told me, 'You will see the Spirit come down and rest on a man; he is the One who will baptize with the Holy Spirit.' I have seen this happen, and I tell you the truth: This man is the Son of God."

John 1:24-35

John the Baptist saw a dove and believed. James Whittaker saw a seagull and believed. James Whittaker was a member of the hand-picked crew that flew the B-17 Flying Fortress captained by Eddie Rickenbacker. Anyone who remembers October of 1942 remembers the day Rickenbacker and his crew were reported lost at sea.

Somewhere over the Pacific, out of radio range, the plane ran out of fuel and crashed into the ocean. The nine men spent the next months floating in three rafts. After only eight days their rations were eaten or destroyed by saltwater. It would take a miracle to survive.

One morning after their daily devotions, Rickenbacker leaned his head back against the raft and pulled his hat over his eyes. A bird landed on his head. He peered out from under his hat. Every eye was on him. He instinctively knew it was a seagull.

Rickenbacker caught it, and the crew ate it. The bird's intestines were used for bait to catch fish. . . .and the crew survived to tell the story.

You may have heard the Rickenbacker story before. The greatest event of that day was not the rescue of a crew but the rescue of a soul.

James Rickenbacker was an unbeliever. The plane crash didn't change his unbelief. The days facing death didn't cause him to reconsider his destiny. In fact, Mrs. Whittaker said her husband grew irritated with John Bartak, a crew member who continually read his Bible privately and aloud.

But his protests didn't stop Bartak from reading. Nor did Whittaker's resistance stop the Word from penetrating his soul. Unknown to Whittaker, the soil of his heart was being plowed. For it was one morning after a Bible reading that the sea gull landed on Captain Rickenbacker's head. And at that moment Jim became a believer.

Who would go to such extremes to save a soul? Amazing the lengths to which God will go to get our attention.

JESUS BEGINS HIS MINISTRY
When Jesus heard that John had been put in prison, he went back to Galilee. He left Nazareth and went to live in Capernaum, a town near Lake Galilee, in the area near Zebulun and Naphtali. Jesus did this to bring about what the prophet Isaiah had said" "Land of Zebulun and land of Naphtali along the sea, beyond the Jordan River. This is Galilee where the non-Jewish people live. These people who live in darkness will see a great light. They live in a place covered with the shadows of death, but a light will shine on them."

Matthew 4:12-16

He looked around the carpenter shop. He stood for a moment in the refuge of the little room that housed so many sweet memories. He had come to say goodbye.

He has heard something that made him know it was time to go. So he came one last time to smell the sawdust and lumber. Life was peaceful here.

I wonder if he hesitated.

You can almost see the tools of the trade in his words as he spoke. You can see the trueness of a plumb line as he called for moral standards. You can imagine him with a pencil and a ledger as he urges honesty. It is here that his human hands shaped the wood his divine hands had created. And it was here that his body matured while his spirit waited for the right moment, the right day.

And now that day had arrived.

JESUS CALLS PETER,
JAMES, AND JOHN
When Jesus had finished speaking, he said to Simon, "Take the boat into deep water, and put your nets in the water to catch some fish.

Simon answered, "Master, we worked hard all night trying to catch fish, and we caught nothing. But you say to put the nets in the water, so I will." When the fishermen did as Jesus told them, they caught so many fish the the nets began to break. They called to their partners in the other boat to come and help them. They came and filled both boats so full that they were almost sinking.

When Simon Peter saw what had happened, he bowed down before Jesus and said, "Go away from me, Lord. I am a sinful man!" He and the other fishermen were amazed at the many fish they caught, as were James and John, the sons of Zebedee, Simon's partners.

Jesus said to Simon, "Don't be afraid. From now on you will fish for people." When the men brought their boats to the shore, they left everything and followed Jesus.

Luke 5:4-11

"Push out into the deep, Peter. Let's fish."

I groaned. I looked at John. We were thinking the same thing. As long as he wanted to use the boat for a platform to speak, that was fine. But to use it for a fishing boat - that was our territory.

With every pull of the paddle, I grumbled. "No way. No way. Impossible. I may not know much, but I know fishing. And all we're going to come back with are some wet nets."

Finally we cast anchor. I picked up the heavy netting, held it waist-high, and started to throw it. That's when I caught a glimpse of Jesus out of the corner of my eye.

"Boy, is he in for a disappointment," I thought as I threw the net. I wrapped the rope once around my hand and sat back for the long wait.

But there was no wait. The slack rope yanked taut and tried to pull me overboard. I set my feet against the side of the boat and yelled for help.

We got the net in just before it began to tear. I'd never seen such a catch. We began to take in water. John screamed for the other boat to help us.

That's when I realized who he was. And that's when I realized who I was: I was the one who told God what he couldn't do!

"Go away from me, Lord; I'm a sinful man." There wasn't anything else I could say.

I don't know what he saw in me, but he didn't leave. Maybe he thought if I would let him tell me how to fish, I would let him tell me how to live.

It was a scene I would see many times over the next couple years. The characters would change, but the theme wouldn't. When we would say, "No way," he would say, "My way." Then the ones who doubted would scramble to salvage the blessing. And the One who gave it would savor the surprise.

JESUS TURNS WATER INTO
WINE AT A WEDDING
Two days later there was a wedding in the town of Cana in Galilee. Jesus' mother was there, and Jesus and his followers were also invited to the wedding. When all the wine was gone, Jesus' mother said to him, "They have no more wine."

Jesus answered, "Dear woman, why come to me? My time has not yet come."

His mother said to the servants, "Do whatever he tells you to do."

In that place there were six stone water jars that the Jews used in their washing ceremony. Each jar held about twenty or thirty gallons.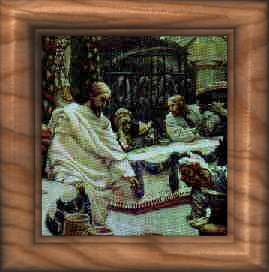 Jesus said to the servants, "Fill the jars with water." So they filled the jars to the top.

Then he said to them, "Now take some out and give it to the master of the feast."

So they took the water to the master. When he tasted it, the water had become wine. He did not know where the wine came from, but the servants who had brought the wine knew. The master of the wedding called the bridegroom and said to him, "People always serve the best wine first. Later, after the guests have been drinking awhile, they serve the cheaper wine. But you have saved the best wine till now."

So in Cana of Galilee Jesus did his first miracle. There he showed his glory, and his followers believed in him.

John 2:1-11

A wedding in the time of Christ was no small event.

For several days there would be gift-giving, speechmaking, food-eating, and - you guessed it! - wine-drinking. Food and wine were taken very seriously. The host honored the guests by keeping their plates full and their cups overflowing. It was considered an insult to the guests if the host ran out of food or wine.

"Without wine, said the rabbis, "there is no joy." Wine was crucial, not for drunkenness, which was considered a disgrace, but for what it demonstrated. The presence of wine stated that this was a special day and that all the guests were special guests.

The absence of wine, then, was a social embarrassment.

Mary, the mother of Jesus, is one of the first to notice that the wine has run out. She goes to her son and points out the problem: "They have no more wine."

Jesus' response? "Dear woman, why come to me? My time has not yet come."

Interesting statement. "My time." Jesus is aware of the plan. He has a place and a time for his first miracle. And this isn't it.

Jesus knows the plan. At first, it appears he is going to stay with it. But as he hears his mother and looks into the faces of the wedding party, he reconsiders. The significance of the plan is slowly eclipsed by his concern for the people. Timing is important, but people are more so.

Why did Jesus do it? What motivated his first miracle?

His friends were embarrassed. What bothered them bothered him.

So go ahead. Tell God what hurts. Talk to him. He won't turn you away. He won't think it's silly. "For our high priest is able to understand our weaknesses. When he lived on earth, he was tempted in every way that we are, but he did not sin. Let us, then, feel very sure that we can come before God's throne where there is grace" (Heb. 15-16, emphasis added).

JESUS TEACHES FAITH,
NOT LEGALISM
There was a man named Nicodemus who was one of the Pharisees and an important Jewish leader. One night Nicodemus came to Jesus and said, "Teacher, we know you are a teacher sent from God, because no one can do the miracles you do unless God is with him."

Jesus asnwered, "I tell you the truth, unless one is born again, he cannot be in God's kingdom."

Nicodemus said, "But if a person is already old, how can he be born again? He cannot enter his mother's body again. So how can a person be born a second time?"

But Jesus answered, "I tell you the truth, unless one is born from water and the Spirit, he cannot enter God's kingdom. Human life comes from human parents, but spiritual life comes from the Spirit."

John 3:1-6

Nicodemus is drawn to the carpenter, but he can't be seen with him. Nicodemus is on the high court. He can't approach Jesus in the day. So Nicodemus goes to meet him at night. He goes in the darkness. Appropriately. For legalism offers no light.

It's rigid. It's mechanical - and it's not from God.

Can I give you the down and dirty about legalism? Legalism doesn't need God. Legalism is the search for innocence - not forgiveness. Legalists are obsessed with self - not God.

Legalism:
Turns my opinion into your burden.
Turns my opinion into your boundary.
Turns my opinion into your obligation.
If you want to be in the group, stay in step and don't ask questions.

Nicodemus knew how to march, but he longed to sing. He knew there was something more, but he didn't know where to find it. So he went to Jesus.

JESUS' SERMON
ON THE MOUNT
When Jesus saw the crowds, he went up on the hill and sat down. His followers came to him, and he began to teach them, saying:

"Those people who know they have great spiritual needs are happy, because the kingdom of heaven belongs to them.

Those who are sad now are happy, because God will comfort them.

Those who are humble now are happy, because the earth will belong to them.

Those who want to do right more than anything else are happy, because God will fully satisfy them.

Those who show mercy to others are happy, because God will show mercy to them.

Those who are pure in their thinking are happy, because they will be with God.

Those who work to bring peace are happy, Because God will call them his children.

Those who are treated badly for doing good are happy, because the kingdom of heaven belongs to them."

Matthew 5:1-10

Sacred delight is good news coming through the back door of your heart. It's hope where you least expect it: a flower in life's sidewalk.

And it is this sacred delight that Jesus promises in the Sermon on the Mount.

Nine times he promises it. And he promises it to an unlikely crowd:

"The poor in spirit." Beggars in God's soup kitchen.
"Those who mourn." Sinners Anonymous bound together by the truth of their introduction: "Hi, I am me. I'm a sinner.
"The meek." Pawnshop pianos played by Van Cliburn. (He's so good no one notices the missing keys.)
"Those who hunger and thirst." Famished orphans who know the difference between a TV dinner and a Thanksgiving feast.
"The merciful." Winners of the million-dollar lottery who share the prize with their enemies.
"The pure in heart." Physicians who love lepers and escape infection.
"The peacemakers." Architects who build bridges with wood from a Roman cross.
"The persecuted." Those who manage to keep an eye on heaven while walking through hell on earth.

It is to this band of pilgrims that God promises a special blessing. A heavenly joy. A scared delight.

JESUS TALKS WITH
A SAMARITAN WOMAN
In Samaria Jesus came to the town of Sychar, which is near the field Jacob gave to his son Joseph. Jacob's well was there. Jesus was tired from his long trip, so he sat down beside the well. It was about twelve o'clock noon. When a Samaritan woman came to the well to get some water, Jesus said to her, "Please give me a drink." (This happened while Jesus' followers were in town buying some food.)

The woman said, "I am surprised that you ask me for a drink, since you are a Jewish man and I am a Samaritan woman." (Jewish people are not friends with Samaritans.)

Jesus said, "If you only knew the free gift of God and who it is that is asking you for water, you would have asked him, and he would have given you living water."

The woman said, "Sir, where will you get this living water? The well is very deep, and you have nothing to get water with. Are you greater than Jacob, our father, who gave us this well and drank from it himself along with his sons and flocks?"

Jesus answered, "Everyone who drinks this water will be thirsty again, but whoever drinks the water I give will never be thirsty. The water I give will become a spring gushing up inside that person, giving eternal life."

The woman said to him, "Sir, give me this water so I will never be thirsty again and will not have to come back here to get water."

Jesus told her, "Go get your husband and come back here."

The woman answered, "I have no husband."

Jesus said to her, "You are right to say you have no husband. Really you have had five husbands, and the man you live with now is not your husband. You told the truth."

The woman said, "Sir, I can see that you are a prophet. Our ancestors worshipped on this mountain, but you Jews say that Jerusalem is the place where people must worship."

Jesus said, "Believe me, woman. The time is coming when neither in Jerusalem nor on this mountain will you actually worship the Father. You Samaritans worship something you don't understand. We understand what we worship because salvation comes from the Jews. The time is coming when the true worshipers will worship the Father in spirit and truth, and that time is here already. You see, the Father too is actively seeking such people to worship him. God is spirit, and those who worship him must worship in spirit and truth."

The woman said, "I know that the Messiah is coming." (Messiah is the One called Christ.) "When the Messiah comes, he will explain everything to us."

Then Jesus said, "I am he - I, the one talking to you."

John 4:5-26

Jesus was seated on the ground: legs outstretched, hands folded, back resting against the well. She stopped and looked at him. He was obviously Jewish. What was he doing here?

Sensing her discomfort, Jesus asked her for water. But she was too streetwise to think that all he wanted was a drink. Her intuition was partly correct. He was interested in her heart.

They talked. Who could remember the last time a man had spoken to her with respect? He told her about a spring of water that would quench, not the thirst of the throat, but of the soul.

Sir, give me this water so that I won't get thirsty and have to keep coming here to draw water."

"Go call your husband and come back."

"I have no husband." (Kindness has a way of inviting honesty.) This woman wondered what Jesus would do. He will be angry. He will think I'm worthless. "You're right. You have had five husbands and the man you are with now won't even give you a name."

No criticism? The woman was amazed. "I can see you are a prophet."

Then she asked the question that revealed the gaping hole in her soul. "Where is God? My people say that he is on the mountain. Your people say he is in Jerusalem." I'd give a thousand sunsets to see the expression on Jesus' face as he heard those words. Of all the women to have an insatiable appetite for God - a five-time divorcee? And of all the people to be chosen to personally receive the secret of the ages - an outcast among outcasts? His eyes must have danced as he whispered the secret. "I am the Messiah."

"Then, leaving her water jar, the woman went back to the town and said to the people, 'Come, see a man who told me everything I ever did. Could this be the Christ?' " Did you notice what she forgot? She forgot her water jar. She left behind the burden she brought. Suddenly the insignificance of her life was swallowed by the significance of the moment. "God is here! God cares for me!"

JESUS HEALS A PARALYZED MAN
A few days later, when Jesus came back to Capernaum, the news spread that he was at home. Many people gathered together so that there was no room in the house, not even outside the door.
And Jesus was teaching them God's message. Four people came, carrying a paralyzed man. Since they could not get to Jesus because of the crowd, they dug a hole in the roof above where he was speaking. When they got through, they lowered the mat with the paralyzed man on it. When Jesus saw the faith of these epeople, he said to the paralyzed man, "Young man, your sins are forgiven."

Immediately the paralyzed man stood up, took his mat, and walked out while everyone was watching him.

The people were amazed and praised God. They said, "We have never seen anything like this!"

Mark 2:5, 12

It was risky - they could fall. It was dangerous - he could fall. It was unorthodox - de-roofing is antisocial. It was intrusive - Jesus was busy. But it was their only chance to see Jesus. So they climbed to the roof.

Faith does those things. And faith gets God's attention. Look what Mark says: "When Jesus saw the faith of these people, he said to the paralyzed man, 'Your sins are forgiven.' "

The friends want him to heal their friend. But Jesus won't settle for a simple healing of the body - he wants to heal the soul.

The request of the friends is valid - but timid. The expectations of the crowd are high - but not high enough. They expect Jesus to say, "I heal you." Instead he says, "I forgive you."

They want Jesus to give the man a new body so he can walk. Jesus gives grace so the man can live.

Sometimes God is so touched by what he sees that he gives us what we need and not simply that for which we ask.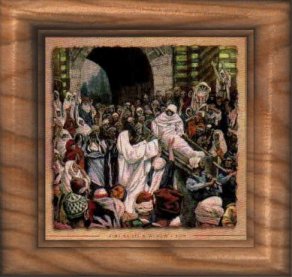 JESUS RAISES A WIDOW'S SON
Soon afterwards Jesus went to a town called Nain, and his followers and a large crowd traveled with him. When he came near the town gate, he saw a funeral. A mother, who was a widow, had lost her only son. A large crowd from the town was with the mother while her son was being carried out. When the Lord saw her, he felt very sorry for her and said, "Don't cry." He went up and touched the coffin, and the people who were carrying it stopped. Jesus said, "Young man, I tell you, get up!" And the son sat up and began to talk. Then Jesus gave him back to his mother.

Luke 7:11-15

The mourners didn't cause him to stop. Nor did the large crowd, or even the body of the dead man on the stretcher. It was the woman - the look on her face and the redness in her eyes. He knew immediately what was happening. It was her son who was being carried out, her only son. And if anyone knows the pain that comes from losing your only son, God does.

So he did it; he went into action. "Don't cry," he told the mother. "Arise!" he told the boy. The dead man spoke, the devil ran, and the people were reminded of this truth: For those who knew the Author of Life, death is nothing more than Satan's dead-man's bluff.

JESUS HEALS JAIRUS' DAUGHTER
A leader of the synagogue, named Jairus. . . .begged Jesus, saying again and again, "My daughter is dying. Please come and put your hands on her so she will be healed and will live." So Jesus went with him.

When they came to the house of the synagogue leader, Jesus found many people there making lots of noise and crying loudly. Jesus entered the house and said to them, "Why are you crying and making so much noise? The child is not dead, only asleep.". . .Taking hold of the girl's hand, he said to her, "Talitha, koum!" (This means, "Young girl, I tell you to stand up!") At once the girl stood right up and began walking. (She was twelve years old.) Everyone was completely amazed.

Mark 5:22-24, 38-42

Jairus is the leader of the synagogue. That may not mean much to you and me, but in the days of Christ the leader of the synagogue was the senior religious leader, the highest-ranking professor, the mayor, and the best-known citizen all in one.

Who could ask for more? Yet Jairus does. In fact, he would trade the whole package of perks and privileges for just one assurance - that his daughter will live.

He fell at Jesus' feet, "saying again and again, 'My daughter is dying. Please come and put your hands on her so she will be healed and will live.' "

There are times in life when everything you have to offer is nothing compared to what you are asking to receive. What could a man offer in exchange for his child's life?

So Jairus asks for his help. And Jesus, who loves the honest heart, goes to give it.

JESUS HEALS A SICK WOMAN
A large crowd followed Jesus and pushed very close around him. Among them was a woman who had been bleeding for twelve years. She had suffered very much from many doctors and had spent all the money she had, but instead of improving, she was getting worse. When the woman heard about Jesus, she came up behind him in the crowd and touched his coat. She thought, "If I can touch his clothes, I will be healed." Instantly her blood stopped, and she felt in her body that she was healed from her disease.

At once Jesus felt power go out from him. So he turned around in the crowd and asked, "Who touched my clothes?"

His followers said, "Look at how many people are pushing against you! And you ask, 'Who touched me?' "

But Jesus continued looking around to see who had touched him. The woman, knowing that she was healed, came and fell at Jesus' feet. Shaking with fear, she told him the whole truth. Jesus said to her, "Dear woman, you are made well because you believed. Go in peace; be healed of your disease."

Mark 5:24-34

She was a bruised reed: "bleeding for twelve years," "suffered very much," "spent all the money she had," and "getting worse." But for a Jewess, nothing could be worse.

Sexually. . . .she could not touch her husband.

Maternally. . . .she could not bear children.

Domestically. . . .anything she touched was considered unclean.

Spiritually. . . .she was not allowed to enter the temple.

By the time she gets to Jesus, he is surrounded by people. "If I can just touch his clothes," she thinks, "I will be healed." All she has is a crazy hunch that Jesus can help and a high hope that he will.

Maybe that's all you have: a crazy hunch and a high hope. You have nothing to give. Maybe that has kept you from coming co God. If that describes you, note carefully, only one person was commended that day for having faith. She was a shame-struck, penniless outcast who clutched onto her hunch that he could and her hope that he would.

JESUS AFFIRMS
JOHN THE BAPTIST
As John's followers were leaving, Jesus began talking to the people about John. Jesus said, "What did you go out into the desert to see? A reed blown by the wind? What did you go out to see? A man dressed in fine clothes? No, those who wear fine clothes live in king's palaces. So why did you go out? To see a prophet? Yes, and I tell you, John is more than a prophet. This was written about him: 'I will send my messenger ahead of you, who will prepare the way for you.'

I tell you the truth, John the Baptist is greater than any other person ever born, but even the least important person in the kingdom of heaven is greater than John."

Matthew 11:7-11

John the Baptist would never get hired today. He "wore clothes made from camels' hair, had a leather belt around his waist, and ate locusts and wild honey" (Mark 1:6).

His message was as rough as his dress: a no-nonsense, bare-fisted challenge to repent because God was on his way. He made few friends and lots of enemies, but what do you know? He made hundreds of converts. "All the people from Judea and Jerusalem were going out to him. They confessed their sins and were baptized by him in the Jordan River" (Mark 1:5).

How do we explain such a response? It certainly wasn't his charisma or clothing. Nor was it his money or position, for he had neither. Then what did he have? One word. Holiness. And he reminds us of this truth: "There is winsomeness in holiness."

You want to make a difference in you world? Live a holy life: Don't speak one message and live another.

JESUS CASTS OUT
A MUTE SPIRIT
When Jesus, Peter, James, and John came back to the other followers, they saw a great crowd around them and the teachers of the law arguing with them. But as soon as the crowd saw Jesus, the people were surprised and ran to welcome him.

Jesus asked, "What are you arguing about?"

A man answered, "Teacher, I brought my son to you. He has an evil spirit in him that stops him from talking. . . .I asked your followers to force the evil spirit out, but they couldn't."

. . .So the followers brought him to Jesus. As soon as the evil spirit saw Jesus, it made the boy lose control of himself, and he fell down and rolled on the ground, foaming at the mouth.

Jesus asked the boy's father, "How long has this been happening?" The father answered, "Since he was very young. The spirit often throws him into a fire or into water to kill him. If you can do anything for him, please have pity on us and help us."

Jesus said to the father, "You said, 'If you can!' All things are possible for the one who believes."

Immediately the father cried out, "I do believe! Help me to believe more!"

When Jesus saw that a crowd was quickly gathering, he ordered the evil spirit, saying, "You spirit that makes people unable to hear or speak, I command you to come out of this boy and never enter him again!" The evil spirit screamed and caused the boy to fall on the ground again. Then the spirit came out. The boy looked as though he were dead, and many people said, "He is dead!" But Jesus took hold of the boy's hand and helped him to stand up.

When Jesus went into the house, his followers began asking him privately, "Why couldn't we force that evil spirit out?" Jesus answered, "That kind of spirit can only be forced out by prayer."

Mark 9:14-29

If you struggle with prayer, I've got just the guy for you. Don't worry, he's not a monastic saint. He's not a calloused-kneed apostle. He's just the opposite. A parent with a sick son in need of a miracle. The father's prayer isn't much, but the answer is and the results reminds us: The power is not in the prayer; it's in the one who hears it.

He prayed out of desperation. His son, his only son, was demon-possessed. Not only was he a deaf mute and an epileptic, he was also possessed by an evil spirit. Ever since the boy was young, the demon had thrown him into fires and water.

What a challenge! He couldn't leave his son alone for a minute. "If you can do anything for him, please have pity on us and help us."

Listen to that prayer. Does it sound courageous? Hardly.

One word would have made a lot of difference. Instead of if what if he'd said since?

But that's not what he said. He said if. The Greek is even more emphatic. The tense implies doubt. If his prayer sounds like yours, then don't be discouraged, for that's where prayer begins.

It begins with yearning.

We are tempted to wait to pray until we know how to pray.

And since we'd rather not pray poorly, we don't pray. Or we pray infrequently.

Good thing this man didn't make the same mistake. He wasn't much of a prayer. And his wasn't much of a prayer. He even admits it! "I do believe," he implored. "Help me to believe more" (see Mark 9:24).

This prayer isn't destined for a worship manual. But Jesus responded, not to the eloquence of the man, but to the pain of the man.

JESUS' TRANSFIGURATION
About eight days after Jesus said these things, he took Peter, John, and James and went up on a mountain to pray. While Jesus was praying the appearance of his face changed, and his clothes became shining white. Then two men, Moses and Elijah, were walking with Jesus. They appeared in heavenly glory, talking about his departure which he would soon bring about in Jerusalem. Peter and the others were very sleepy, but when they awoke fully, they saw the glory of Jesus and the two men standing with him. When Moses and Elijah were about to leave, Peter said to Jesus, "Master it is good that we are here. Let us make three tents - one for you, one for Moses, and one for Elijah." (Peter did know what he was talking about.)

While he was saying these things, a cloud came and covered them, and they became afraid as the cloud covered them. A voice came from the cloud, saying, "This is my Son, whom I have chosen. Listen to him!"

When the voice finished speaking, only Jesus was there. Peter, John, and James said nothing and told no one at that time what they had seen.

Luke 9:28-36

"As he was praying," Luke writes, "the appearance of his face changed, and his clothes became as bright as a flash of lightning." For just a moment, he is transfigured; a roaring radiance pours from him. He becomes as he was before he came.

Moses and Elijah, aflame with eternal robes, stand beside their King. When Jesus was preparing himself in the desert for the work of life, angels came to encourage him. Now, on the mountain, preparing himself for the work of death, Moses and Elijah draw near: Moses, the lawgiver whose grave no man knew; Elijah, the prophet who sidestepped death in a fiery chariot.

And then, the voice thunders, God inhabits a cloud. And from the belly of the cloud, the Father speaks: "This is my Son, whom I love; with him I am well pleased. Listen to him!"

For Peter, James, and John, the scene is bizarre. But for Jesus, it is a view of home. A view into yesterday. A glimpse into tomorrow. And tomorrow's dream becomes today's courage.

JESUS HEALS A MAN
AT THE POOL OF BETHESDA
Later Jesus went to Jerusalem for a special Jewish feast. In Jerusalem there is a pool with five covered porches, which is called [Bethesda]. . . .Many sick people were lying on the porches beside the pool. Some were blind, some were crippled, and some were paralyzed. A man was lying there who had been sick for thirty-five years. When Jesus saw the man and knew he had been sick for such a long time, Jesus asked him, "Do you want to be well?"

The sick man answered, "Sir, there is no one to help me get into the pool when the water starts to move. While I am coming to the water, someone else always gets in before me."

Then Jesus said, "Stand up. Pick up your mat and walk."

John 5:1-8

Picture a battleground strewn with wounded bodies, and you see Bethesda. Call to mind the orphans in Bangladesh or the abandoned in New Delhi, and you will see what people saw when they passed Bethesda.

But not Jesus.

He is alone.

Can you picture it? Jesus walking among the suffering. What is he thinking? When an infected hand touches his ankle, what does he do? When a blind child stumbles in Jesus' path, does he reach down to catch the child? When a wrinkled hand extends for alms, how does Jesus respond?

Whether the watering hole is Bethesda or Bill's Bar. . .how does God feel when people hurt?

It's worth the telling of the story if all we do is watch him walk. It's worth it just to know he even came.

JESES FEED
FIVE THOUSAND PEOPLE
When Jesus looked up and saw a large crowd coming toward him, he said to Philip, "Where can we buy enough bread for all these people to eat?" (Jesus asked Philip this question to test him, because Jesus already knew what he planned to do.)

Philip answered, "We would all have to work a month to buy enough bread for each person to have only a little piece."

Another one of his followers, Andrew, Simon Peter's brother, said, "Here is a boy with five loaves of barley bread and two fish, but that in not enough for so many people."

Jesus said, "Tell the people to sit down." This was a very grassy place, and about five thousand men sat down there. Then Jesus took the loaves of bread, thanked God for them, and gave them to the people who were sitting there. He did the same with the fish, giving as much as the people wanted.

John 6:5-11

His lunch wasn't much. In fact, it wasn't anything compared to what was needed for more than five thousand people.

I think that's why he didn't give the lunch to the crowd. Instead he gave it to Jesus. Something told him that if he would plant the seed, God would grant the crop.

So he did.

The boy summoned his courage, got up off the grass, and walked into the circle of grownups.

Someone probably snickered.

If they didn't snicker, they shook their heads. "The little fellow doesn't know any better."

If they didn't shake their heads, they rolled their eyes.
But if wasn't the men's heads or eyes that the boy saw; he saw only Jesus.

JESUS WALKS ON WATER
That evening Jesus' followers went down to Lake Galilee. It was dark now, and Jesus had not yet come to them. The followers got into a boat and started across the lake to Capernaum. By now a strong wind was blowing, and the waves on the lake were getting bigger. When they had rowed the boat about three of four miles, they saw Jesus walking on the Water, coming toward the boat. The followers were afraid, but Jesus said to them, "It is I. Do not be afraid." Then they were glad to take him into the boat. At once the boat came to land at the place where they wanted to go.

John 6:16-21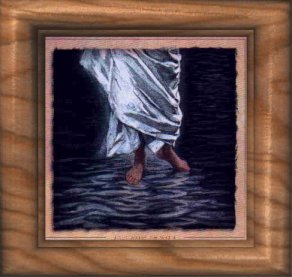 Suppose one of Jesus' disciples kept a journal. And suppose that disciple made an entry in the journal on the morning after the storm. Here is how it would read. . .I suppose.

In the midst of the sea, our boat bounced. We were helpless.

"A ghost," someone screamed. A flash of lightning illuminated the sky. For a second I could see its face. . .his face. It was the Master!

He spoke: "Take courage! It is I. Don't be afraid."

"Lord, if it's you,. . .tell me to come to you on the water." The voice was Peter's. And he knew where he wanted to be. . .where we all wanted to be.

"Come on," Jesus invited. So Peter climbed over the side and stepped onto the sea. Jesus radiated light at the end of the trail. Peter stepped toward the light like it was his only hope. He was halfway there when we all heard the thunder. I saw his head turn. He looked up at the sky. And down he went.

A hand came through the water sheets and grabbed Peter. Lightning flashed again, and I could see the face of Jesus. Hurt covered his face. It was like he couldn't believe that we couldn't believe.

Before I knew it, he was in the boat with us. The winds hushed.

I looked at Peter. And then I looked at him.

And I did the only thing I could have done. I fell at his feet and worshiped.

I saw God. It took a storm for me to see him. But I saw him. And I'll never be the same.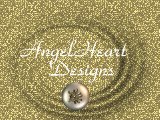 I Exalt Thee
This site best heard with . . . Crescendo PLUS from LiveUpdate!